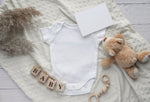 Discover our top 5 tips on how to choose the most thoughtful and practical baby-shower gift for soon-to-be parents or newborns.
On the one hand, buying a special baby-shower gift for a loved one can be a magical experience. But with more choices online or in-store than ever before, finding the best baby-shower gift can also be a little overwhelming. To make your life easier, here are our tips on how to choose a thoughtful and practical gift for soon-to-be parents or newborns.
1. Think practically
It's so easy to be lured in by the vast array of adorable baby clothes and toys available these days. But, sometimes, the best baby-shower gifts aren't the cutest or most exciting items, but the most functional ones. Consider must-have, basic items for babies such as bibs, swaddles, a baby bath, towels, play mats and books. And don't forget about practical gifts for parents such as a nappy bag, meal-delivery service or short-term house cleaner. When in doubt, ask the expectant parents what gifts they would appreciate.   
2. Give something unique
A really unique and meaningful gift can become a treasured keepsake. A minimink faux-fur newborn blanket or family photo shoot is a lovely idea if your budget stretches that far. Looking for something more affordable or in the mood for being creative? Try DIY baby gyms or teething toys, bandana bibs in beautiful fabrics, sensory books or boxes, or trying your hand at knitted or crocheted blankets, toys, or clothing.
3. Support local
Where possible, buy Australian-made baby gifts. By supporting local businesses, you're contributing to the local economy and helping to keep Australians employed. Most local, small businesses are also really passionate about what they do, which means they provide excellent personalised customer service. Another fantastic benefit of buying local? Locally made products are often of higher quality. You can learn more about the quality of goods by paying attention to the materials and construction and reading online customer reviews.
4. Buy a gift for parents
While it can be hard to resist those cute baby gifts, baby showers should be just as much about the parents. Trust us when we say that busy, sleep-deprived new parents will be grateful that someone has spared a thought for them when it comes to gifts. Along with the ideas mentioned earlier, great gifts for parents might include a breastfeeding pillow, a warm and snuggly blanket, food or a tea hamper, comfy loungewear, a voucher for a restaurant or a massage, a pamper pack, or a streaming or audio book subscription service.
5. Give a joint present
Let's be honest: baby gifts can be hard on the hip pocket. So, if budget's a concern, or you'd love to buy a practical, big-ticket item such as a pram, bassinet, car seat or change table, pooling your funds with family or friends is a great idea. If you're looking at a bigger purchase but are unsure what the expectant parents need or want, as always, it's best to speak to them before buying your gift. They'll be able to tell you what they're yet to buy, along with their preferred brand or model. If in doubt, a voucher for a popular baby or furniture store is a great alternative.  
Looking for the perfect baby-shower gift? Minimink's luxuriously thick and warm faux-fur blankets and baby products will make a practical, stylish and long-lasting gift for that special newborn.