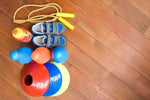 Screen-free gifts encourage children to use their imagination, play outside and build important skills while having fun. Here are some fantastic screen-free gift ideas for birthdays, Christmas or other celebrations.
Art and craft kits
Children love getting creative, and art and craft kits are a wonderful way to stimulate their creativity and imagination while keeping them busy for hours! Arts and crafts are also ideal for teaching children about colours, shapes and textures. They can also help hand-eye coordination and fine motor skills. There are kits available to help children create all sorts of inspiring things, from paintings and drawings to sculptures, 3D models, toys, jewellery and more.
Toys to encourage physical activity
If you're looking for a gift idea that will tempt children away from screens, look no further than toys that encourage physical activity and getting out in nature. Examples include bikes, scooters, skateboards and balls. If your child loves to run around and play outdoors, consider a trampoline or a set of hula hoops. If your child prefers more structured activities, a basketball hoop, tennis racquet or set of soccer goals are other great ideas. 
Board games
Board games are fun gifts that teach children important skills, such as problem-solving, social skills, turn-taking and what it means to win and lose. If your child loves adventure, consider buying them a game that involves exploring, such as Clue. If they're more competitive, Monopoly is a popular choice. If your child loves animals, Animal upon Animal will be perfect! Other great options include Hungry Hippos, Uno, Skip-Bo, Twister and Sequence. 
Wooden Puzzles
Children of all ages can enjoy puzzles. They help to promote creativity and problem-solving skills and are a great way for children to learn about shapes and colours. They also improve hand-eye coordination and fine motor skills. Puzzles can even teach children self-control and delayed gratification. Wooden puzzles come in a variety of shapes and sizes, so there is sure to be one that appeals to every child. Popular puzzle designs include animals, cars, places and buildings.
Science kits
Science kits are an excellent way to encourage children's natural curiosity. Children can learn about scientific methods, experimentation and observation. Science kits can also help children develop problem-solving and critical thinking skills while having fun! There are many different science kits available for children. Some allow children to experiment with chemistry, while others allow them to explore the natural world. There are also kits that allow children to build their own toys or gadgets. 
STEM activities
STEM gifts help foster a love of science, technology, engineering and maths. STEM activities encourage children to be innovative, explore new possibilities, learn about the world around them and explore their interests in science and maths. Great examples of STEM gifts for children include a chemistry set, a microscope, a telescope, an engineering kit, a maths game or a robotics kit.
Instead of opting for the latest video game system this year, why not give children one of these fun and educational screen-free gifts?