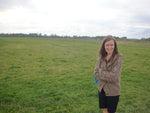 We sat down with minimink's new owner, Deb, to learn more about her passion for the brand, her favourite products and how she's put her unique stamp on our brand.
After running minimink successfully for almost 20 years, earlier in 2021, our founder passed the reins to another passionate Melbourne business owner and long-time minimink devotee, Deb Sweeney. We sat down with Deb to learn more about her passion for the brand, her favourite minimink products and how she's put her unique stamp on our brand.
You've recently taken over the minimink label. How did that come about?
I was gifted a minimink blanket from my husband's workmates when our first child was born. I fell in love with it instantly! I visited minimink's website and found other products I loved, too. I bought the Russian-style faux fur hat for my daughter and always got stopped when I was out with her in the pram, so that became my go-to gift for friends' babies. Over the years, I bought other minimink products, including the larger blankets.
In 2020, I received a group email saying minimink's owner was moving on to other passions and planned to close the business. I thought it was a shame to lose such a great product range, so I got in touch with the owner and eventually made her an offer to buy the business. As of 2021, I became the proud new owner of minimink. 
Can you please share a bit about yourself?
I'm based in Melbourne and the mum of two young children. My background is professional services, where I had climbed fairly high up the corporate ladder, but since becoming a mum, my focus has shifted. I wanted to be more available for my children, especially while they were young. I wanted to find something that would allow me the flexibility to be at home more but also to find fulfilment by staying connected to the corporate world.
What do you love about minimink?
Apart from the amazing quality of the products and their beautiful colours, I've always loved that minimink is a family business founded in Australia by a mum wanting to create something beautiful and functional for her child. This is exactly my goal: to create high-quality, stylish, functional and easy-to-care-for products for my children.
What are your favourite minimink products and why?
One of my favourites is the Russian-style hat. I had one for each of my children, and they always looked so adorable! The hats were perfect for the chill of the Chicago winter when we lived there for a time.
I also love the classic faux fur blanket. We each have one in our favourite colour. It's great for wintry nights and for curling up on the couch. I especially love that I can just pop it in the washing machine, and it comes out as good as new.
I am quickly falling in love with our new play mat. My children love to use it in their teepee for play and reading time. We've even taken it to the beach for a fish and chip dinner and to weekend sports lessons. It makes a perfect spot for parents and siblings to sit. 
How have you put your unique stamp on minimink?
minimink faux fur is amazing quality, so it's been important to me to keep the partnership with the wonderful producers who have been creating our faux fur for over 15 years. While staying true to the minimink brand, I also wanted to inject some of our family into it, too, so I've introduced new products into the range, including a doll blanket, pram liner, play mat and cushions. My children helped me design the cushions and have been wonderful product testers! 
I've also really enjoyed creating a new website that makes it easier to find the perfect product. I wanted to have a bit of fun with the website and incorporate our Scottish family heritage into the design. I've put some tartan on one of the cushions and, as Scotland's national animal is the unicorn, we have decided to have one as our mascot. My children have named the unicorn 'sparkle-shine moondancer'! 
Do you have any exciting plans for the label?
I'm always thinking of how we can expand and improve our range of products. I have a couple of things in mind that I'm excited to share in the new year! 
Want helpful news, tips and insights from minimink? Subscribe to our newsletter, or email Deb for all your minimink questions.