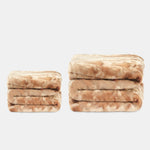 Faux fur is an artificial fur fabric made to look and feel like real fur. It is one of the oldest known forms of clothing, introduced to the market in 1929. These early attempts at faux fur were made using alpaca hair. By the 1940s, the quality of faux fur had improved considerably. Today, it is generally made using acrylic polymers.
Materials
Faux furs are known as pile fabrics, which means they have the appearance and warmth of animal furs. They are attached to a backing using various techniques. The weaving technique is where the fibres are looped through and interlaced with the backing fabric. Other methods used include tufting, circular loop knitting and sliver knitting. Tufting is similar to the weaving process but produces garments much faster. Sliver knitting uses the same equipment as jersey knitting, making it the fastest and most cost-effective method.
Faux furs are made with a variety of materials. The bulk fibres are typically made of polymers, including acrylics, modacrylics, or blends of the three. Modacrylics are very useful for artificial furs because we can easily dye them with animal-like colours.
Modacrylic and acrylic polymers are lightweight and springy. They are resilient, wash well and have very low moisture absorbency, enabling quick drying. They also resist mildew and are not susceptible to attack from insects.
Other naturally occurring fabrics, such as silk, wool and mohair, are also used to make artificial furs. These fabrics can improve the look and feel of the finished product. Cotton or wool are typically used to make the backings to which the fibres are attached, giving the garment its shape.
All Minimink custom-made faux fur is attached to a cotton backing using the weaving technique.
Environmental awareness
As we become more aware of our responsibility to protect the environment and animal rights, artificial fur garments are becoming a more popular choice for fashion designers and buyers alike.
Explore our beautiful faux fur range HERE