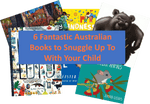 Reading is one of the most precious things you can do with your child. It opens up a whole new world to them while aiding their learning and development. From Aussie animals to outback and travel adventures, these enchanting books are beautifully illustrated to capture the attention of you and your little one.

The Very Cranky Bear by Nick Bland
Part of the bestselling Bear series, this humorous, rhyming book teaches children the importance of listening to others' needs and feelings and dealing with frustration healthily through the experience of a moose, lion, zebra, sheep – and a cranky bear. Bland approaches negative emotions in an age-appropriate way, providing opportunities for children to discuss what makes them feel cranky. A fun read for children aged 3+.
Back to Sleep by Zoe Foster Blake
The author of the wildly popular and laugh-out-loud No One Likes a Fart is back with this hilarious read guaranteed to entertain your little one time and time again. This warm and clever tale flips the usual bedtime routine on its head … this time it's the parents who won't go to sleep. Throughout the book, Mummy and Daddy get up to all sorts of tricks, interrupting poor little Flynn as he tries to sleep. A delightful read for children aged 3+.
Lots by Marc Martin
Take your child on an adventure with this brilliantly fun and engaging read full of quirky facts about places around the world. Written and illustrated by award-winning Marc Martin, it contains the most beautiful, bright and detailed illustrations of different people, places, landscapes and cultures around the globe. From Hong Kong to the Amazon, Ulaanbaatar and Antarctica, it's a wonderful way for your child to discover what makes each place unique. Children aged 2-7 will love this book.
A-Z of Australian Animals by Jennifer Cossins
Your children will be spellbound reading this wonderfully illustrated book, which contains fascinating facts about 26 of Australia's most interesting animals. The A-Z of Australian Animals will not only educate your child on different Australian animals but also help them learn their alphabet by associating each letter with an animal. A fantastic choice to keep children over 3 entertained while encouraging their sensory skills and language development.
Welcome to Country by Aunty Joy Murphy
Written by respected elder Aunty Joy Murphy, this magnificent book explains the concept of Welcome to Country ceremonies and their significance to Aboriginal communities across Australia in a simple and engaging way. Its stunning indigenous illustrations with bold colours will keep your little one entertained for hours on end while also building their knowledge of Aboriginal culture. Welcome to Country comes with a CD track that plays Aboriginal music and dance for children aged 3-12.
Kindness Makes us Strong by Sophie Beer
An ideal read for kindergarten-aged children, this fabulous book shows the benefits of being kind to one another and the world around us. Using simple but interesting illustrations and words, this book will not only help build your child's confidence and self-esteem but also encourage them to help others in need. A wonderful read for children aged 3-6.
Our luxuriously soft and warm faux fur blankets and cushions are perfect for snuggling up with your child at reading time each evening. Shop our beautiful range now.